Release date: December 11, 2019
Configuration:
Cards per pack: 3
Packs per box: 8
Boxes per case: 20 (two 10-box inner cases)
Set size: 100 cards
Box Break:
- Exceptional Beginnings – 1
- Additional Inserts – 6
- Red Parallels – 8
Like past years, 2019-20 Upper Deck Synergy Hockey has a lot going on. But if you're looking for straight-up base cards, there aren't going to be many. Parallels and inserts make up the majority of the cards found in packs. There are base cards, but they're all extremely limited.
And while there are autographs, Synergy isn't a product that has them in every box. Hobby boxes do come with seven inserts and eight parallels.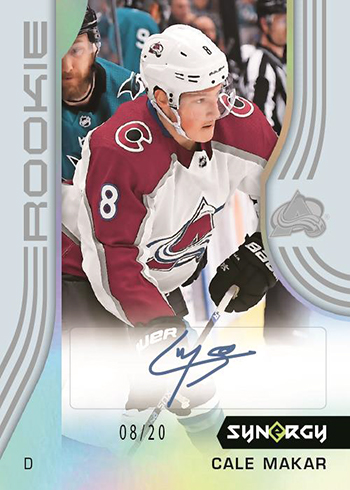 2019-20 Upper Deck Synergy Hockey Base Set Basics
The main set has just 100 cards but putting it together is a tough task. It consists of 31 veterans, nine All-Stars and 60 rookies. Vets and All-Stars are serial numbered to 19 copies. Most of the rookies have 20, although some drop down even further to just 10.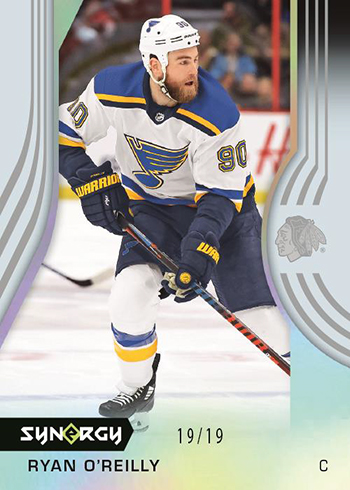 Parallels come in four levels. Of those, Red are the only ones that don't have serial numbers when it comes to rookies. Red cards combine to land one per pack, although some are more plentiful than others.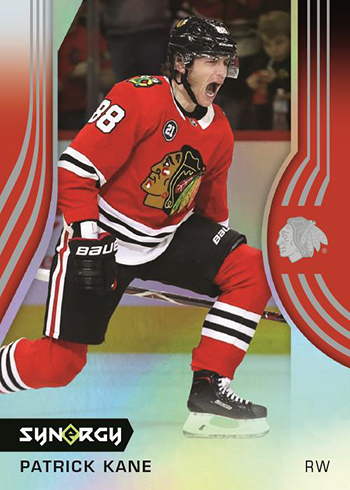 Here's a breakdown of the various parallel colors and their numbers:
Red
Veterans: 1:4
All-Stars: 1:16
Holdover Rookies: 1:7
Rookies: Tier 1 – 1:3; Tier 2 – 1:8, Tier 2 – 1:80
Blue
Veterans: 1:6
All-Stars: 1:60
Holdover Rookies: /799
Rookies: Tier 1 – /799; Tier 2 – /599, Tier 2 – /399
Green
Veterans: 1:12
All-Stars: 1:120
Holdover Rookies: /299
Rookies: Tier 1 – /299; Tier 2 – /199, Tier 2 – /99
Purple
All are numbered to the player's jersey number.
Select base cards and Purple parallels have autographs.
Inserts and Other Autographs
Exceptional Beginnings cards are one of the inserts in each 2019-20 Synergy Hockey hobby box. Besides the base versions that are numbered to 999, this come with Orange (/499) and one-of-one Black parallels.
The 18-card Millennial Impact set (1:4 packs) focus on the NHL's young and rookie standouts.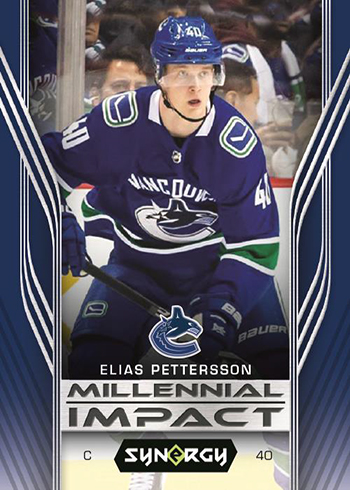 Rookie Journey is a new insert set for 2019-20 Upper Deck Synergy Hockey. Each player in this set has three different cards: Draft (/999), Away (/899) and Home (/799).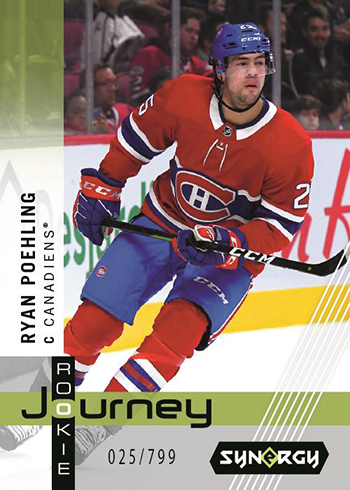 Veterans have a similar set with All-Star Journey. First Appearance cards are numbered to 999, second or later have 899 while 2018-19 Appearance cards have 799.
Cast for Greatness (1:60) return. This cards get their distinct look from their metal stock.
Impactful Performers (1:4) and Sensational Seasons (1:6) are among the other inserts available.
Synergy Autographs round out the checklist. Base versions combine to land 1:48 packs while Black parallels are one-of-ones.
2019-20 Synergy Hockey Bounty Program
The Bounty program returns to Synergy. The focus is on the Red parallels. All collectors who complete the full 100-card set receive card #36 in the Cast for Greatness set. It's not available in packs.
As an incentive to complete the Bounty quickly, the first ten to submit Red sets receive a set of Gold Cast for Greatness parallels. This is the only way to get them.