Release date: September 4, 2019
Configuration:
Cards per pack: Hobby – 10, Retail – 8, Gravity Feed – 8, Blaster – 8, Fat Packs – 32
Packs per box: Hobby – 18, Retail – 36, Gravity Feed – 36, Blaster – 12, Fat Pack – 18
Boxes per case: Hobby – 16, Retail – 20, Gravity Feed – 6, Blaster – 20, Fat Packs – 6
Set size: 600 cards
Box Break:
- O-Pee-Chee Caramels – 4
- Playing Cards – 3
- Gold Glossy Parallels – 1
- Retro Black Border Parallels – 2
- Blue Border Parallels – 6
- Retro Parallels – 18
2019-20 O-Pee-Chee Hockey cards are designed around set building and the brand's roots in the past. The checklist is big and the cards reflect a sense of nostalgia, even if they are something entirely new. On the flip side, this isn't a place for hits, at least in the form of autographs and memorabilia cards. Instead, chase elements come from short prints and tough inserts.
2019-20 O-Pee-Chee Hockey Base Set Basics
At 600 cards, this is bound to be one of the biggest base sets of the year. It begins with a 500-card shell set, which digs deep into every NHL roster.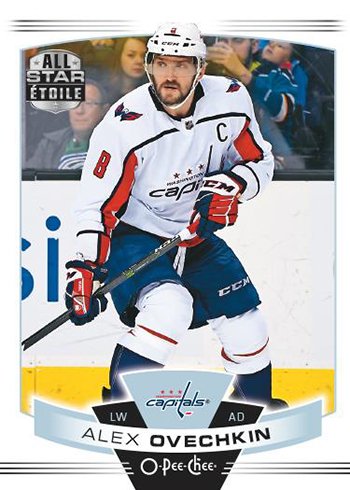 The final 100 cards come with a variety of familiar subsets including Marquee Rookies (50 cards), Season Highlights (ten cards), League Leaders (nine cards) and Team Checklists (31 cards). Although short prints, these High Series cards aren't overly tough.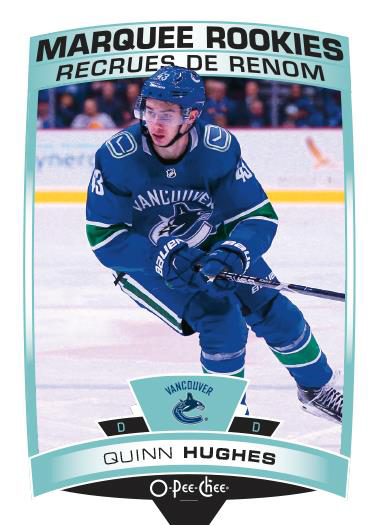 Parallels come in a few forms. OPC Retro are one per hobby pack.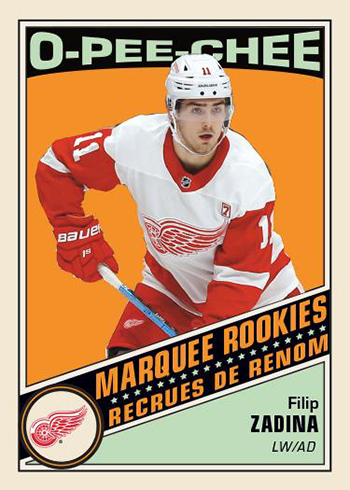 Hobby-exclusive Retro Black Border cards come serial numbered to 100 copies. Randomly inserted hot boxes have Retro Black cards replacing all of the usual base cards.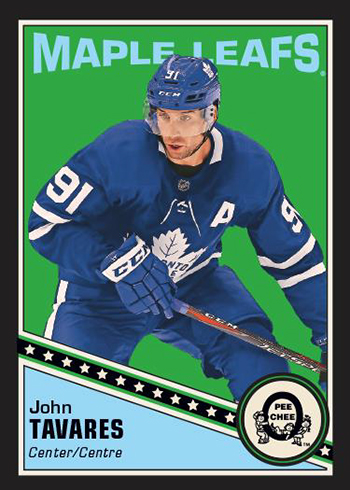 Other parallels include Blue Border (1:6 hobby packs) and Gold Glossy Border (1:24 hobby packs). Retro, Blue and Gold Glossy parallels are also available in retail packs.
Inserts
Caramels is a new chase set in 2019-20 O-Pee-Chee Hockey. The full set has 40 cards with 28 regular prints combining to land 1:5 hobby packs. Six short prints are 1:44 packs while six SSP Caramel inserts are 1:87 packs.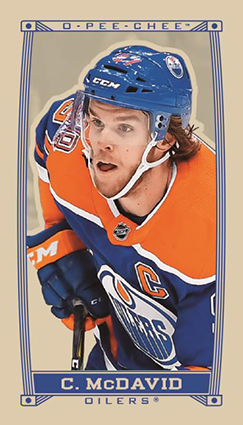 Brown Caramel border parallels are a blaster box exclusive. These are 1:9 blaster packs (1:76 for SP and 1:152 for SSP).
Another deck of OPC Playing Cards (1:5 hobby, Aces – 1:120) is included in the product.
Among the tough inserts in 2019-20 O-Pee-Chee Hockey are In Action (1:1,152 hobby), 2019 Stanley Cup Final Moments (1:360 hobby), and Retro High Series Cup Captain (1:4,608 hobby).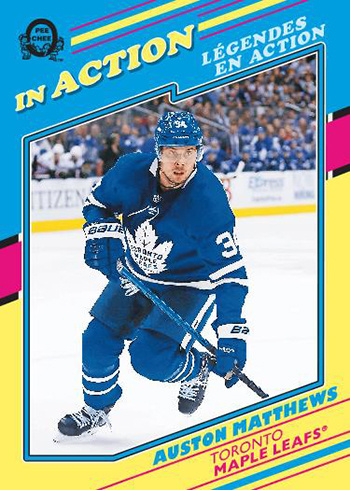 Manufactured Patch Cards
O-Pee-Chee Patches are back, but only in hobby packs. The vast majority of these revolve around year-end trophies and awards:
King Clancy Trophy – 1:937
Bill Masterson Memorial Trophy – 1:937
Presidents' Trophy – 1:937
Frank J. Selke Trophy – 1:937
William M. Jennings Trophy – 1:937
Maurice Richard Trophy – 1:937
Ted Lindsay Award – 1:937
Art Ross Trophy – 1:937
Lady Bing Trophy – 1:1,312
Conn Smythe Trophy – 1:1,312
James Norris Memorial Trophy – 1:1,687
Calder Memorial Trophy – 1:1,687
Vezina Trophy – 1:1,687
Hart Memorial Trophy – 1:2,250
Stanley Cup Trophy – 1:1,875
O-Pee-Chee Logo Update – 1:1,125
Hall of Fame Logo – 1:2,250
Hall of Fame Logo SP – 1:18,750